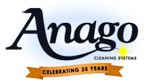 Anago Cleaning Systems provides Master Franchise Owners with the ability to start their own business in the profitable commercial cleaning industry, with the foundation and support of an established, technologically advanced organization.
As an Anago Cleaning Systems Master Franchise Owner, you will be provided with the exclusive developmental rights to sell Anago Janitorial Franchises, and gain commercial cleaning customers within your territory.
Master Franchise Owners will sell, train and support their unit Janitorial Franchise Owners in a designated region using our proven concepts and methods.
Investment Amount- $60,000