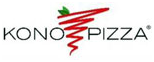 Kono Pizza is an entirely new way to make and enjoy authentic Italian pizza, in a delicious single serve cone shaped pizza dough. Cones are assembled with high quality ingredients, including authentic Italian tomato sauce, meats and cheeses. Then heated in front of the customer in only 3 minutes. Meeting customer demands for portability, customization, authenticity of product and fast service.
Kono Pizza, the first and only pizza cone franchise, is an established internationally tested and proven concept.
Our pizzas are different, they are served in a cone, filled with fresh, quality ingredients, with our dough and sauce imported straight from Italy. Kono Pizza fills a unique niche in the fast-casual pizza market offering American consumers a healthier and portable alternative to a traditional triangle or square slice of pizza-the pizza cone. Featuring a thinner crust and low-moisture cheese. Kono pizza cones are only 250 – 280 calories each, compared to 450 calories of an average traditional pizza slice.
Kono Pizza USA has three business models including traditional kiosk formats, stand-alone stores and food trucks.
Our mission is to keep everything simple and affordable. Kono Pizza USA franchisees are offered a streamlined, manager driven business model, with a low start-up cost of $150,000 to $345,000.
Investment Amount-$85,000