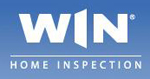 WIN Home Inspection (WIN) franchisees provide residential home inspection services, and business referrals are generated primarily by developing professional relationships with real estate agents. WIN is a nationally recognized leader in home inspection services, having performed over 750,000 inspections since 1993.
With more than 180 franchised locations in 30 states across the U.S., the WIN network of professional home inspectors provides a complete array of premium inspection services for home buyers, sellers and owners.
As a WIN franchise operator, you will share information with home buyers and sellers, providing them with the information they need to make an informed decision on one of life's biggest investments.
Investment Amount- $25,000