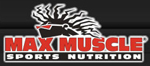 Max Muscle Sports Nutrition
MMSN is a retail franchise offering client-custom consulative and integrated sports nutrition plans, body analysis, meal plans, and world-class "best in class" premium sports nutrition products through affordable and strategically located stores that are in close proximity to their local fitness community of gyms, fitness centers, chiropractors, colleges and high schools, police and fire departments, fitness minded consumers, etc.
Franchisees use exclusive diagnistic hardware (used by NFL, NBA, and the Mayp Clinics) and custom software to assess the individual client's state of fitness, prior to making specific meal, exercise, and nutritional recomendations.
The custom nutrition plans and audits, not offered by any market....