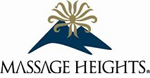 Massage Heights was founded in 2004 and launched national expansion in 2007. Today, the company is the fastest growing therapeutic massage concept specializing in the membership model with nearly 102 locations in operation in the U.S. and Canada, with dozens in development.
In 2013 the company was ranked #259 on the " Franchise 500 List" by Entrepreneur Magazine. Massage Heights offers professional massage services by licensed and registered massage therapists in a clean, upscale, spa-like environment. Multiple tiers of membership, branded retail products, and add on services create several streams of revenue for both the massage therapist as well as the franchisee.
Unparalleled franchise education, training and support set our operators and area developers up for success. With an aggressive expansion plan, as well as the tools for area developers to promote the opportunity locally, Massage Heights is set to outpace competitors with a clearly distinctive business model, atmosphere and product offerings.
Investment Amount- $175,000