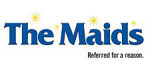 Distinguished as the number one residential cleaning franchise and the Fastest Growing residential cleaning franchise five years running by Entrepreneur magazine, The Maids is the quality leader in the industry. The Maids was founded in 1979 and began franchising in 1980, so franchise partners benefit from a time-tested cleaning system and business model based on leading-edge technology.
The Maids provides the most comprehensive package of training, support, and territory in the industry. We provide extensive training, including seven weeks of pre-training and 10 days of classroom and field training. We are in touch and involved with the new franchisee a minimum of 195 days within the first year.
Our franchise partners service over 1000 territories in the United States and Canada. We still have many great markets available. With The Maids, you can build a great business and achieve the lifestyle you desire, all with nights, weekends and holidays off.
Investment Amount- $60,000